ANTIK Samsung Tizen APP is app suitable for Samsung TVs with Tizen OS. This system gives easy access to popular streaming services. Since you don't need to use ANTIK set- top boxes for this app, that's another way to enjoy Antik services.
KEY FEATURES
Fast and up-to-date design
Single view on media sources – linear, VOD, catchup, user generated content
Dynamic mosaic integrated into channel selection
Deep media recommendation integration with x-sell opportunities
All features supported
LiveTV of all sources (IP ,OTT)
EPG
Archive (catch-up TV)
Apps portal
Messaging
Advertising
MAIN MENU
Main selection represents main navigation tool to bring all your offers to the user fingertips. GUI offers deep integration of all kinds of content (Icons links to TV titles, Settings, Most favourite movies, Top Movies...) together with promotions and 3rd party advertising into one single intuitively operated menu. Media content recommendation integration is available.  Main menu includes linear TV navigation including live mosaic, all types of content access, access to applications, global content search and settings submenu.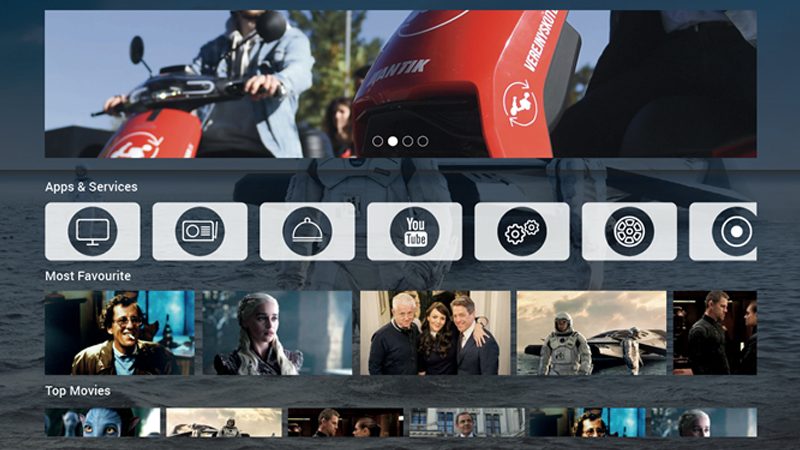 ON SIDE NAVIGATION PANEL
Consists of the following items

Switch to TV mode
Radio
Cameras
Filter
The visuals of screens and functionality of cameras and radio are not part of this specification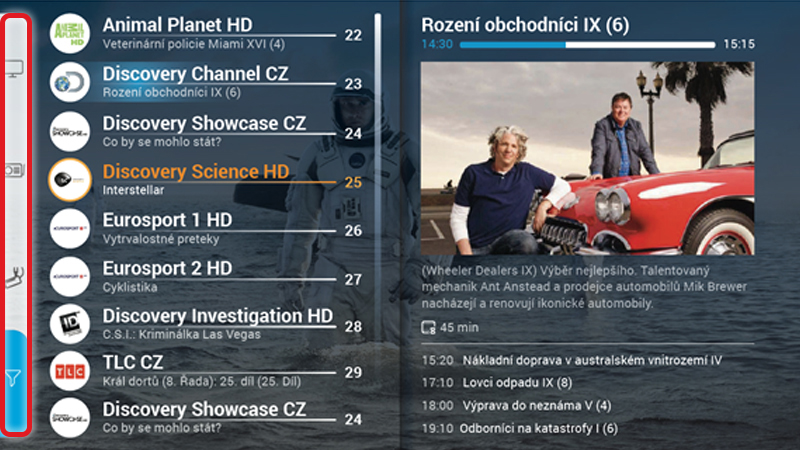 CHANNEL LIST FOR LIVE TV
List of channels with assigned number
Program selection
Straightforward usage of live channels is still the centre of attention of most TV users globally. Antik designers always keep their eyes on uncomplicated and intuitive TV channels zapping features. Of course we combine it with content-rich horizontal/vertical/multi information view.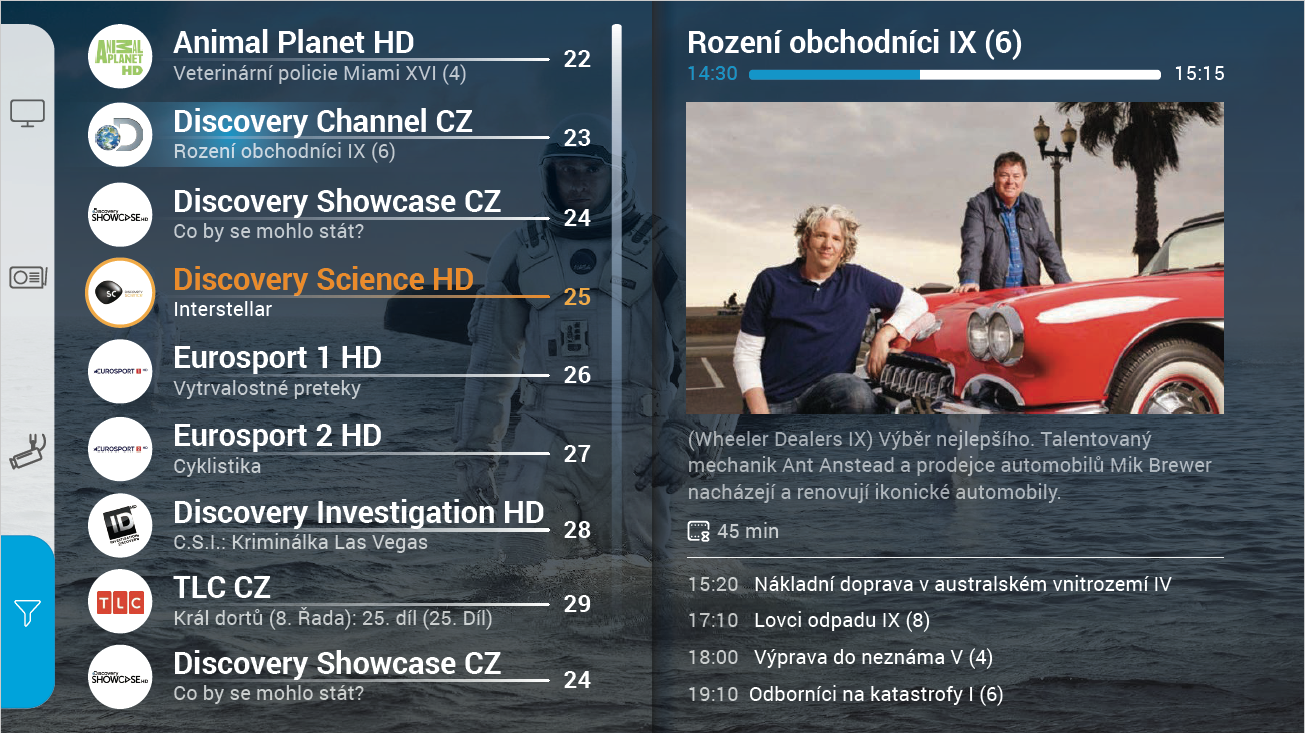 FILTERS FOR CHANNELS
Language
Genre
Favorites
Searched item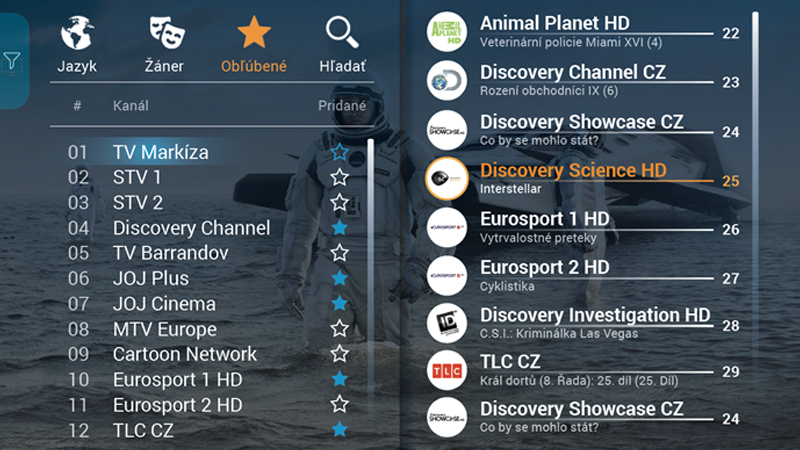 VOLUME CONTROL
ARCHIVE DASHBOARD
Using video metadata helps the enduser to navigate via archived content, too. Besides the standard access to archive using original timing of the show, ANTIK Samsung Tizen APP automatically pairs metadata including genres/categories and top watched content to archived content and offers it in the way typical previously for VOD content only.
The day is displayed
The following title lists are obtained via ANTIK API

Tips from yesterday
Tips from the day before yesterday
Last viewed

After scrolling down the user gets to unfiltered lists of titles in the archive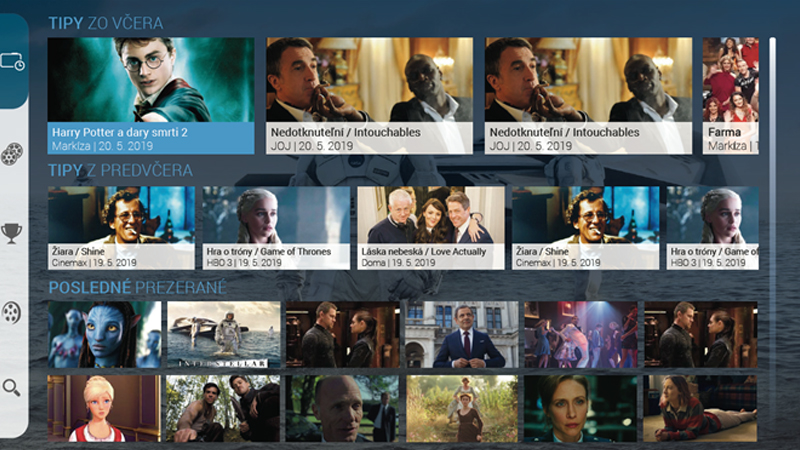 ARCHIVE- GENRE SELECTION
Genre selection filters archived titles
Detail of the selected item is displayed again after clicking on it
Gallery contains relevant images for the selected item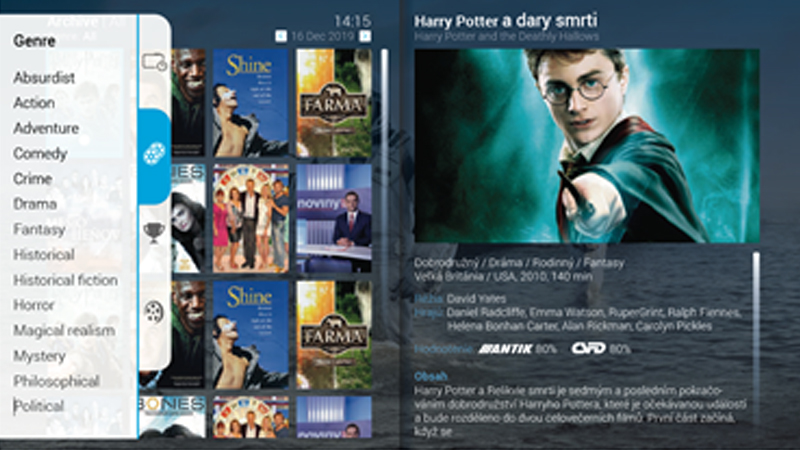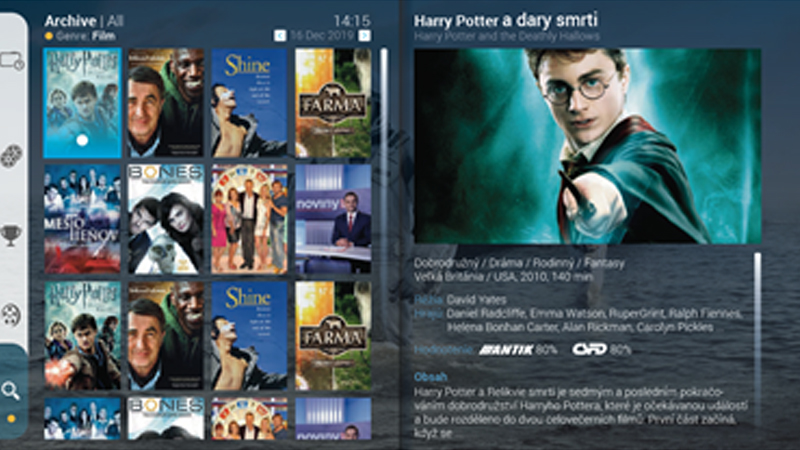 ARCHIVE PLAYER
The lower part of the player contains

Loop playback
Shuffle clips
Fullscreen
Going back in 1 minute
Stop
Resume
Moving 1 minute forward
Using subtitles if available

Displayed besides that

Preview photo
Title
Year, genre, production
Current playtime
KEYBOARD (for searching in archive)
Displayed according to set language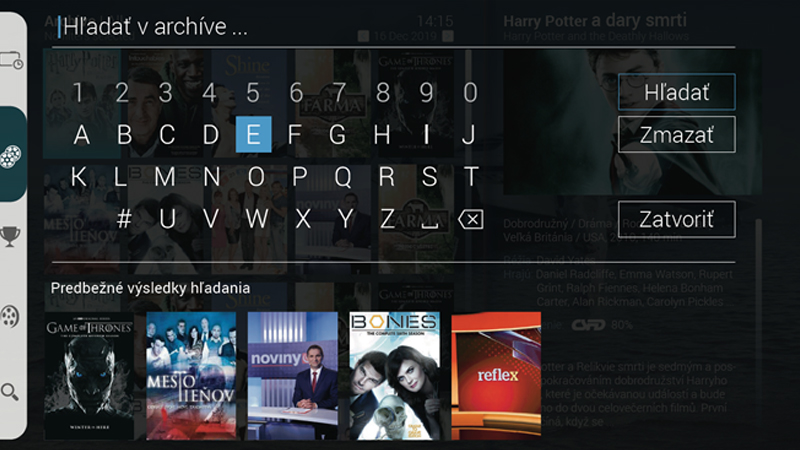 MESSAGES
Receiving messages and personalized messages from ANTIK backend
Message contains subject and content made up of text and images (PNG, JPG, PDF)
Video can be also attached
Message can be permanently deleted from the inbox
Inbox contains a list of received messages, sorted from newest to oldest, where the day of the sent message is also displayed
The number of unread messages is displayed and is also graphically distinguished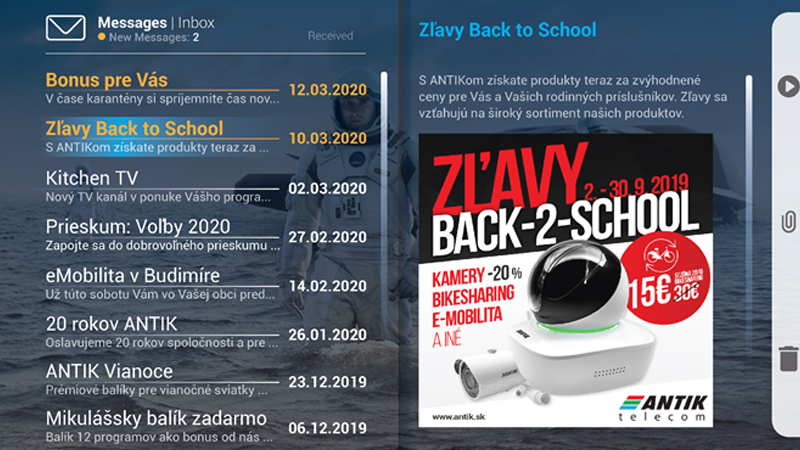 WEATHER FORECAST
Weather API OpenWeather is used for implementation of neccesary information
Current location, weather forecast for the actual day and 4 days after, intensity of wind, THW index, humidity, visibility, UV index and bar are shown