Antik TR 6015 HD/SD Multi Channel Transcoder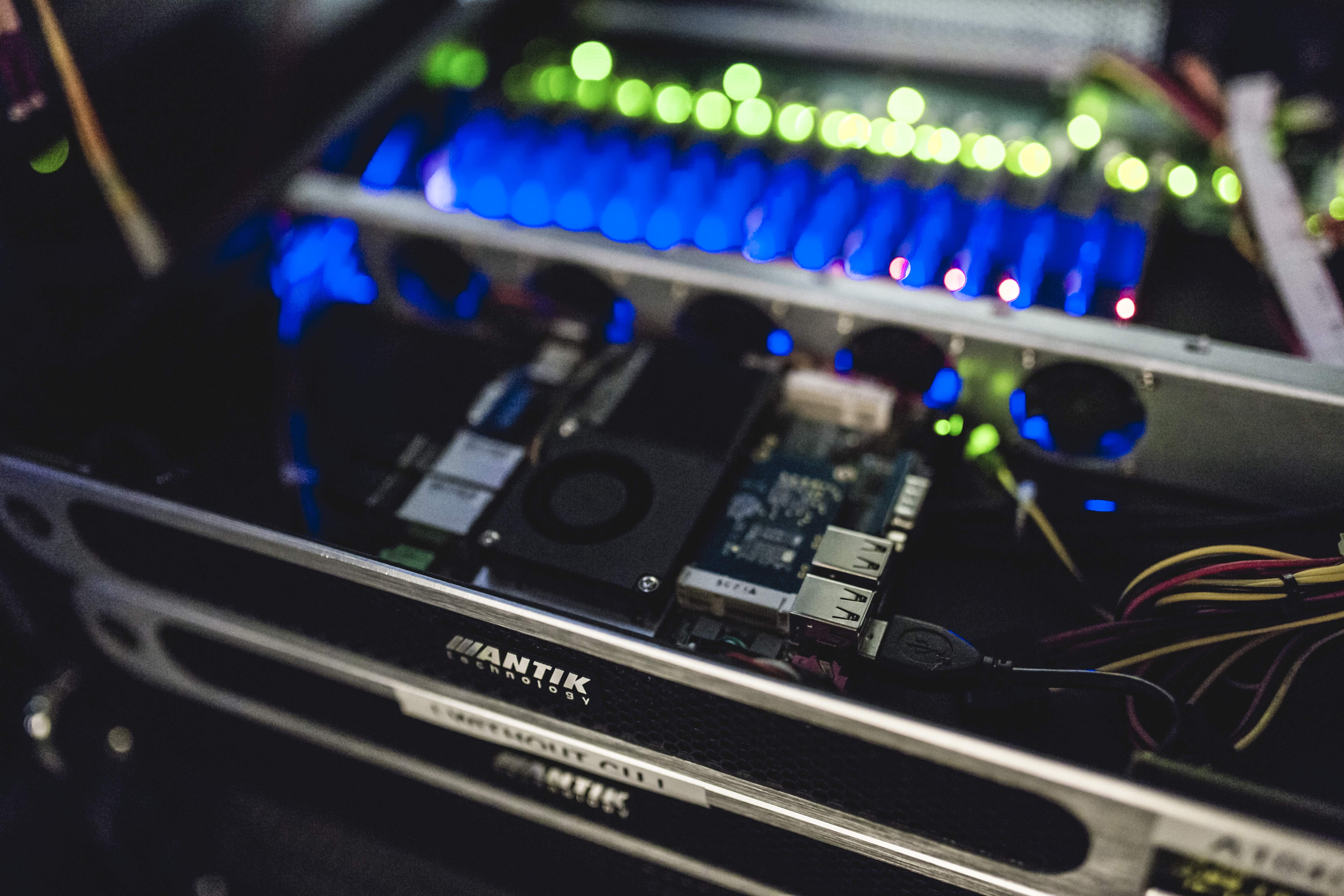 The TR6015 is multichannel video and audio transcoder which provides a powerful processing engine for linear broadcast transcoding idel for IPTV solutions. Transcoder is based on an ultra-fast ViXS chipset offers you a great tool for your project. It's capable of transcoding/encoding up to 15 SD or HD channels. You don't need to buy many devices, and thus avoid filling too much room. The Slim 1U Rack design will save you space and money. This solution is great for any IPTV project, from typical Telco headends to large scale OTT projects. It is an extremely cost effective solution per channel.
The Antik TR6015 HD/SD Multi Channel Transcoder is a professional tool for headend application developed to enhance transcoding efficiency and decrease its time delay. It supports a wide range of operating programs, from low to very high bit rates. The device features the latest advancements in video encoding, performing to H.264 and MPEG specifications. The multiprofiling option can secure various, impressive & flexible transcoding functions, which can be controlled in order to provide a plenty of transcoding applications.
All the features are well supported by the Antik Transcoder Web Management, where you can easily configure the settings for your optimal performance. Front panel with the OLED display also offers another way of managing or checking the status of the device. All together, this system is an extremely cost effective solution per channel.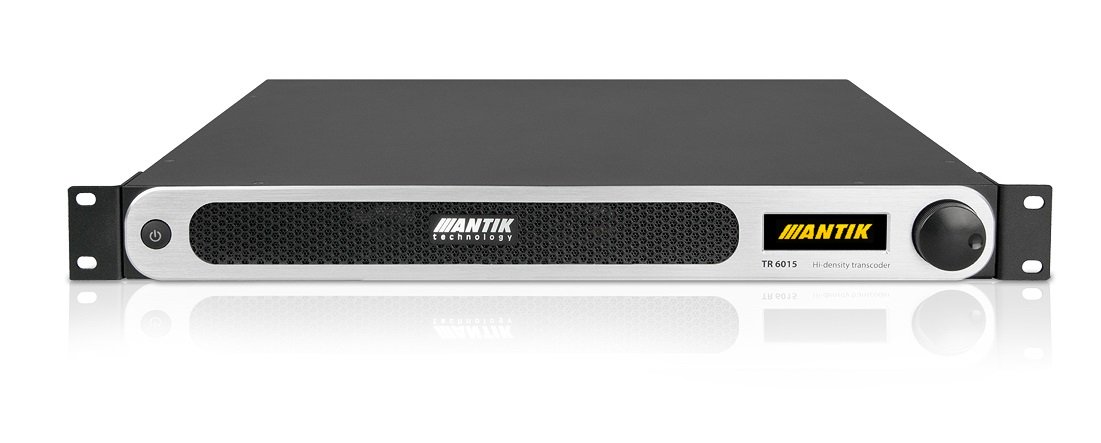 Key features
Real time transcoding of up to 15 video streams
Support for MPEG4 and H.264 Video Encoding
Multi-format IP2IP video transcode (H.264, MPEG2)
HD Encoding up to 1080i
2x1U slim rack-mounted design
Low power consumption
10/100/100 Base-TX Ethernet network interface
Front panel with OLED display
WEB-based remote configuration and control (HTTP)
All SD and HD resolutions support
Support of wide range of bit rates: 6Kbps to 40 Mbps
Compatible with all major television broadcasting standards: NTSC, PAL, SECAM
Key features
Real time transcoding of up to 15 video streams
Support for MPEG4 and H.264 Video Encoding
Multi-format IP2IP video transcode (H.264, MPEG2)
HD Encoding up to 1080i
2x1U slim rack-mounted design
Low power consumption
10/100/100 Base-TX Ethernet network interface
Front panel with OLED display
WEB-based remote configuration and control (HTTP)
All SD and HD resolutions support
Support of wide range of bit rates: 6Kbps to 40 Mbps
Compatible with all major television broadcasting standards: NTSC, PAL, SECAM

Technical specifications:
Video Transcoding
MPEG2 SD/HD to MPEG2 SD/HD
MPEG2 SD/HD to MPEG4 SD/HD AVC
MPEG2 SD/HD to MPEG4 SP/ASP
MPEG4 SD/HD AVC to MPEG2 SD/HD
MPEG4 SD/HD AVC to MPEG4 SD/HD AVC
MPEG4 SD/HD AVC to MPEG4 SP/ASPBit-rate reduction of multiple streams, 40Mbps to 64Kbps Resolution reduction, HDTV to HDTV, SDTV
Audio Processing
MPEG2 LI, LII
MPEG2 AAC-LC-Stereo
Dolby AC-3 True HD, 7.1, 5.1, Stereo
MPEG1, L1, L2, MP3, AAC, Dolby AC-3 True HD 7.1, 5.1
Interfaces
2x RJ45 10/100/1000 Mbit
2x USB 2.0 for 2x Slave transcoder unit
Operating Conditions
Temperature range 0 to +60°
Operating humidity range 10 to 90% RH
Power supply range 100-240VAC / 50-60Hz
Typical power consumption 150W
Dimensions
44H x 430W x 380D mm
Weight 3kg
Device installation: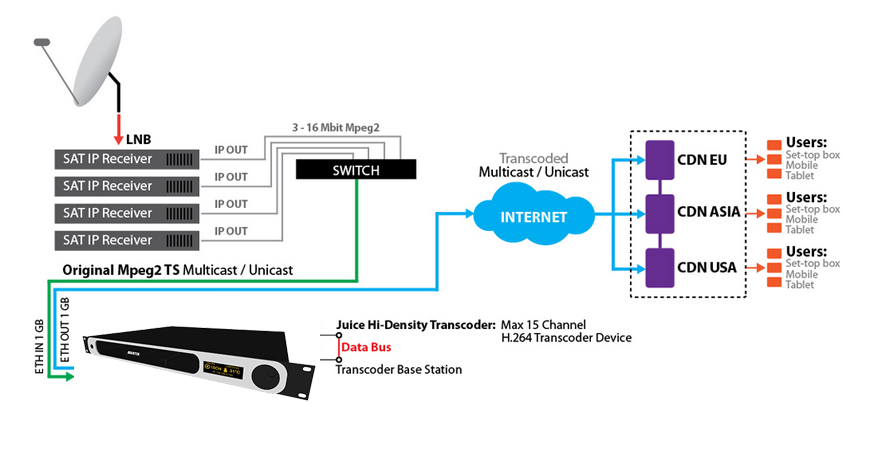 ORDER