Antik Mini 3- IPTV or Hybrid IPTV +DVB Set-top Box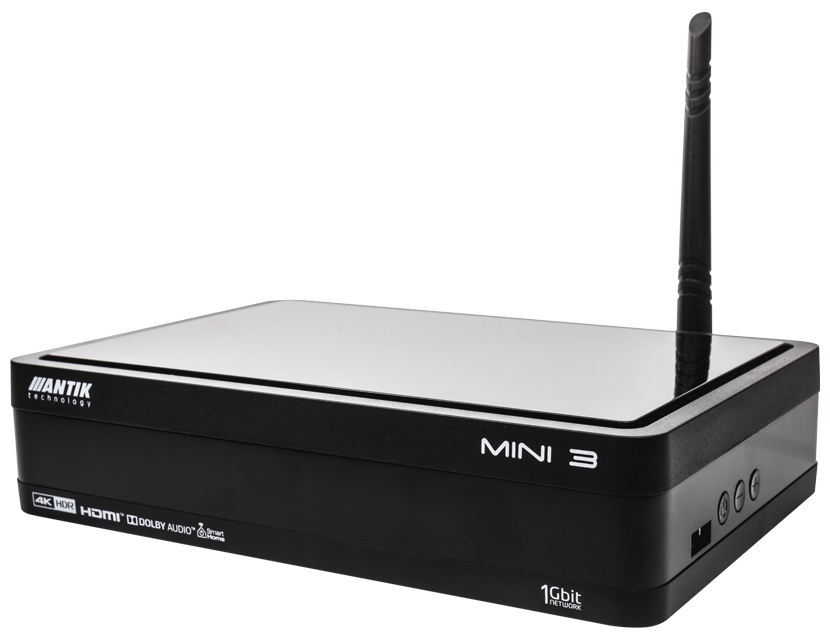 New ANTIK Mini 3 quad-core Linux / Android set-top box with Hi3798C V200 central processing unit has a great features to satisfy highest demands for video decoding, power consumption, price and performance. It is a 4K HDR or dual full HD DVB & IPTV set-top box with VP9 video decoding at 3840 x 2160 resolution at 60fps. Fully integrated with Antik MaxIM management system.

KEY FEATURES
Enhanced Host CPU performance (15000DMIPS)
Hybrid device with IP + DVB tuner (optional)
L2 managed switch up to 1Gbps
4K HDR or dual Full HD decoding
Decoding and display capability compatible with HDMI 2.0a
Wifi 802.11 ac Access Point (optional)
Wake on HDMI CEC, IR/BT RC input
Smart Home HUB (Z-Wave)
Modem

IP+ DVB Tuners (OPTIONAL)
It is possible to have embedded internal Wi-Fi antenna (client mode) and optional Smart Home solution supported by external antenna. Wi-Fi serves as alternate internet connection method in OTT mode or in closed network, it can serve as second STB network adapter to connect to home network resources (DLNA server) while wired ethernet is used to deliver multicast to the box. Wi-Fi functionality can optionally serve as Wi-Fi router as well.
DVB-S2+IP / ETH 1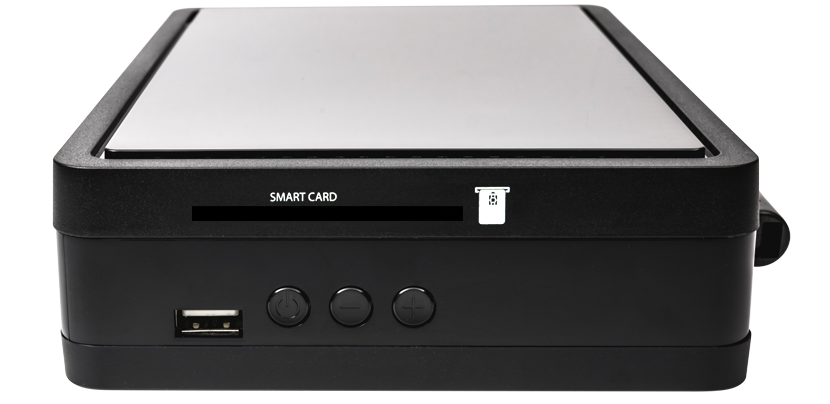 DVB-T + IP / ETH 1

Pure IP / ETH 4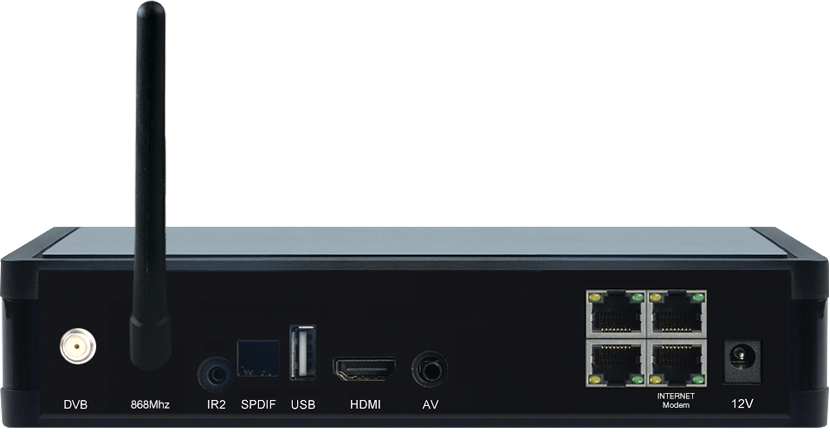 Mini 3ST

INPUTS / OUTPUTS
DVB-C/T/S/S2 Tuner Input (OPTIONAL)
HDMI 2.0a
TOSLINK Digital Audio interface
1x USB 3.0 + 1x USB 2.0 (optional)
1x or 4x RJ45 (Ethernet 10/100/1000baseTx)
868 MHz transceiver for Smar Home
WiFi client embedded- 802.11a/b/g/n/ac up to 867mbps (2T2R)- Optional
Infrared Receiver
Bluetooth 4.2- Optional
Highlights:

4K (2160p60) video support and crystal clear digital audio
Interactive TV Support - Multicast TV, Electronic Program Guide, VOD, Mosaic
PVR and Network PVR support
Major DRM systems integrated
Segment streaming and buffering for OTT delivery even in low-speed networks
Hybrid broadcast-broadband TV (HbbTV) support
Hardware generated Picture-in-Picture
Intelligent low power consumption management
Ideal for Digital Signage system

Features:

DVB pre-integrated
Different browsers integrated – Ekioh (SVG), Webkit (HTML5)
HTTP Live Streaming support
Fast vector graphics thanks to integrated SVG Engine
4K or dual Full HD decoding
DLNA Server&Player support (coming soon)
High-Resolution front OLED display (optional)
HDD - external through USB (optional)
---
Video:

H.265 (Main/Main 10 profile@level 5.1)
H.264/AVC (BP/MP/HP@level 5.1)
VP9 (Profile 0@level 5.1)
MPEG4/2/1, VC-1/WMV9, VP8/VP6, AVS, REAL8/9/10, DivX3/4/5/6 and some other legacy codecs
HDR support (HDR10, HLG)
H.264 encoder
 

Streaming:

MPEG-2 transport stream
Multicast or Unicast
TS over UDP
TS over RTP
HTTP streaming
RTSP (with trick play support) for VoD
Teletext and subtitles
IGMP v2 & v3
HLS

Accessories (optional):

Remote control IR, Blietooth 4.2
RCA/SCART cable
Ethernet Cable
HDMI cable
Full size/Compact Keyboard
WiFi adapter
IR Extender cable

Networking:

L2 switch
support hybrid VLANs

Application:

Telco IPTV
Hotel IPTV
OTT IPTV
DTH

 

Audio:

 MPEG-1 (layer I/II)
 MP3
 Dolby Digital (AC-3)
 AAC (HE-AAC v2 Profile)
 FLAC
 Vorbis

CPU & Memory:

CPU quad-core ARM Cortex-A53, 15000 DMIPS
GPU ARM Mali-T720
DRAM 2 GB DDR3
Flash 8 GB eMMC

CAS / Scrambling / DRM:

Key Rider
Conax
Widewine

Software integration:

Operating system Linux 3.18/ Android 7.0
Copy Protection HDCP v 2.2 (optional)
Ekioh SVG integrated (optional)

Middleware

ANTIK MaxIM Middleware 2.0 (optional)

Technical Specifications:

Width x depth x height 183 x 137 x 47mm
(without packaging)
Weight 540g (without accessories and packaging )
Power Consumption 8W
Power Input 12V DC
Power Adaptor 90-250V/50-60Hz AC
Operating temperature 0°C to 45°C
Operating Humidity 8%-95% (non-condensing)
868 MHz transceiver for Smart Home
---
RELATED PRODUCTS

A revolutionary content centric DVB and IPTV middleware by ANTIK represents new trends in user interface design.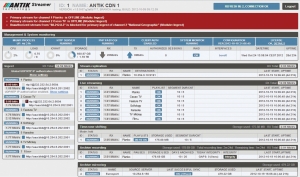 Thanks to years of the development of the Antik Media Streamer, you will benefit from modules covering all the areas of live streaming, VOD, state-of-art catch-up TV (archive of linear TV) over the public Internet as well as the timezone shifting together with durable and fully-adjustable replication and mirroring modules combined with a stream protection.
 

Antik IPTV Demokit offers you the possibility to check all the important features of Antik products. It serves as proof-of-concept of your next IPTV project and gives you chance to become familiar with major SW and HW components.